Orikum is a small touristic town, situated in southern Albania and bordered by Vlora and Himara cities and Ionian beach in western. This small city is well known for the high number of tourists during summer and not only, since it offers many tourism options. Crystal-blue waters that surround the small city attract each year thousands of tourists which do not only enjoy the sunny days in the soft sands of Ionian coast but have also the opportunities to visit many ancient ruins and cultural spots as castles, churches caves, lagoons and the national park of Llogara.  Except the tourism aspect, Orikum offers a
If you plan to visit country's south and especially Orikum city, here are five most attractive places you should definitely visit:
The ancient city of Orik
Orik ancient settlement is situated in the southwestern shore of Orik bay, in a low rocky hill, near a wood scaffold that separated a small lagoon with Pasha-Liman bay. The ancient author Apollonius wrote that Orik city was established when Euboeans returned to Troy. Many historians have written about the importance this city had in many battles of Romans against European prices. Many important archeological objects have been found in the city but the archeological search has been always limited for the importance of this center that continues even nowadays to be used as a naval base. Many of the ancient objects found in the city are exposed at the Vlora museum.  The latest inscription found in the area dates II century a.c.. In 1989, archeologists discovered an ancient cemetery which is thought to be a Hellenistic cemetry.
Church of Marmiroi
This church is situated in the end of Karaburuni peninsula, in its borders with Dukati valley, built on a small hill near the sea. The byzantine church was built around XII century and has three entrances, in north, west and south. Archeologists and locals believe this has been a small monastery since its architectonic features as the dome in the form of a Christian cross, very similar with the architecture of monasteries. The walls of the church have small windows and inside of it has chimneys.
Stone theatre of Orik
The ancient stone theatre was built in I b.c. and has a capacity of 600 spectators. Researchers say this theatre has been used for theatric shows and gladiators fights. This is the most important monument of the area, discovered in Paleokastra hill and represents great historical, archeological and cultural values of Albanians' predecessors. In ancient times, underneath the theatre has been a stone structure which was used as a jetty for mooring the ancient boats. There are still tracks of it, even why it has transformed into a small lake, but there are stone stairs that people used to enter in it. In this area, archeologists have discovered parts of an orchestra and the theatre has four rows of stone chairs. The second and third rows have double stone chairs.
The cave of Haxhi Ali
Locals have always called it as the Illyrian cave and the legends say that a brave soldier and seaman called Haxhi Ali used this cave as a shelter for him and his son. The cave served as a hiding place to attack sea pirates and to protect shepherds and travelers that used to cross by that area. The cave has the form of a cupola with a length of 30 meters, maximal altitude 18 meters, width 12 meters and is 10 meters deep into the hill.
There is a song dedicated to this mystic figure and some people say that boats and ships that cross near this cave horn in his honor. Archeologists have found many important archeological objects in this cave, which testimony that it has been used by travelers and traders in ancient times. From the ground of it stems freshwater.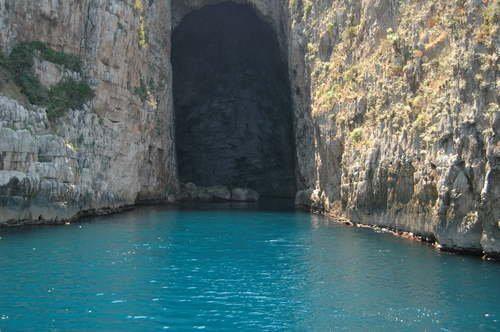 The cave of Duk Gjoni
This cave is located in the southern part of Karaburuni peninsula in the place called Petrune, circa 400 meters above the sea level. The cave has a karstik origin and is rich with different and odd forms of architecture, based in the world of flora and fauna. The walls of the cave are surrounded by stalactites and stalagmites, which separate the surface of it into several floors and halls. In the first floor you will see a small stem which extracts water throughout the year. The cave has enthralling beauties, high scientific, cultural and touristic values. If you want to visit the cave, you must walk to the footpath that sends to a place called Petrune.
Source/photos: Orikum Municipality webpage , elisabetta2005 (Flickr)