TIRANA, November 14
The quarterly report on Demographic Indicators by the Albanian Institute of Statistics (INSTAT) shows a y-o-y falling birth rate for the July-September period, but without mentioning reasons why the rate has been falling. Yet, immigration, economic anxiety, or positive social phenomena such as women's empowerment, lifestyle choices, fertility awareness, and birth control, improved access to education, and many other factors likely all play a role in the latest statistics.
The fertility rate in Albania has been falling for years. In the third quarter (Q3) of 2018, the number of births in Albania was 8,213 or 9.9 percent more than Q3 2019 with a total of 7,403 births.
Meanwhile, the number of deaths during Q3 2019 was 4,716 or 5.1 percent less than Q3 2018.
The y-o-y comparison confirms a 17.1 percent negative natural growth rate in the aforementioned period.
The report of demographics confirms major regional differences during Q3 2019: Tirana, for example, had the highest natural growth rate. The number of births in the capital city was 2,410 while the number of deaths was 1,187.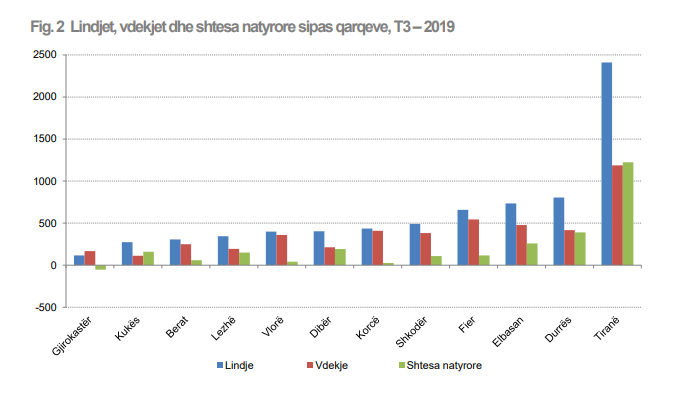 While it's expected that the Tirana region has both the highest number of births and deaths, the region with the lowest number of births was Gjirokastra, with 115 births in Q3 or 18.4 percent less compared to Q3 2018.
In general, ten out of the 12 regions witnessed a decline in the number of births. The only two regions that saw an increase in live births compared to Q3 2018 were Kukesi and Vlora.
Source: INSTAT