TIRANA, October 3
The Euro strengthened against the Lek to its highest level in over four months. Based on the Bank of Albania (BoA) official exchange rate, 1 Euro=122.66 Lek on Thursday, the highest level since the end of May.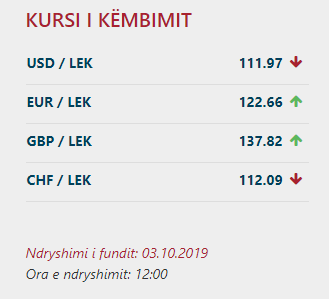 The Euro entered a rising trend by mid-September. Experts say that the Euro strengthening against the Lek is related to the internal market. Second-tier banks have been actively buying during recent days.
On the other hand, the end of the summer peak season impacted the Euro supply in the domestic market.
The 2019 rates have seen the Euro losing ground against the Albanian Lek, although a slower pace compared to 2018. Experts say that the Euro will stay strong until December when remittances from migrants will increase the Euro in the domestic market.
Meanwhile, the US dollar lost ground compared to Wednesday when $1 =122.15 Lek the highest rate since 2017.
Source: Monitor