TIRANA, November 10
The European Union (EU) says that the Albanian economy is enjoying a positive momentum even when compared to the economies of the other EU candidate countries according to the European Economic Forecast Autumn report published on Thursday. According to the latest economic forecast, Albania's economy will grow 4percent in 2017. The report highlights that growth will be driven by private consumption.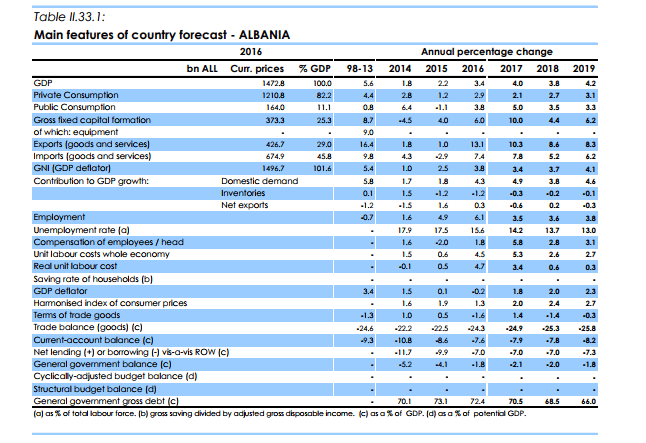 Photo credit: ec.europa.eu
"Foreign direct investments in the energy sector are at a peak, resulting g in an acceleration of economic activity in the current year. Exports continue growing at a fast pace, benefitting from expanding tourism and the strengthening economies of key trading partners. Growing employment and higher wages bolster household spending. Investment and consumption are supported by an accommodative monetary policy. Inflation is low but projected to rise gradually towards the official target. The fiscal policy stance is only slowly reducing the high level of public debt as a share of GDP," the economic forecast says.
Compared to the other EU candidate countries, the pace of GDP growth rate ranks Albania second following Turkey. According to the report, the Turkish economy will grow 5.3 percent in 2017. Serbia's growth rate will be 2 percent. Further on, the forecast for Macedonia and Montenegro say says that they will respectively have a growth rate of 1.7 percent 3.9 percent for 2017.
In the long-term forecast, Albania is expected to have the highest growth rate among the EU candidate countries in 2019 at 4.9 percent.
News Source/Photo Credit: ec.europa.eu, pixabay.com