This is not an original article of invest-in-albania.org. 
You may read the original one by clicking here.  
Greek newspaper Ekathimerini published the following article about the attractiveness of  Albanian Riviera.
"On the outskirts of the archaeological site of Butrint, a few kilometers from Saranda, a group of tourists from Western Europe followed their guides. The Dutch Bregi Bimans and János Peter, along with their one-year-old daughter were coming down the hill. Peter has organized a ten-day trip in the Albanian Riviera, as it is called in the guides of Saranda, the coast which is opposite to the area of Corfu, northwest of Vlora.  
Peter works as an engineer in Amsterdam. The costs of the family package was 1400 €, but for him, this is a reasonable price (accommodation, breakfast, and tickets). Six years before, he had visited the island of Crete: "What attracted me were the articles of the Dutch newspapers that advertise Albania as one of the last paradises unknown in Europe"- said, Peter. The neighboring country (Albania), expects more than 3 million tourists this year.
Several months ago, the New York Times included Albania among the 52 major destinations for 2014. 'You can swim near the abandoned castles and enjoy the fresh fish. This is Europe, where it is cool and … cheap." Can this new trend of visiting Albania cause risk to Greek tourism? Could the tourist resorts of the Albanian Riviera "capture" the visitors from Greece and the Ionian Islands in particular? We traveled to confirm this…
Photo credits: Ekathimerini
From Corfu Airport to Saranda …
Off the port of Saranda, there are two boats departing for Corfu, from which will disembark about 400 tourists. The bus will depart for day trips to nearby beaches. The same day trips from Corfu start in early May, but this year, for the first time, many tourists, especially Scandinavians, are using the Greek island as a passage for long vacations in Albania. "Thousands of tourists arrive at our airport, and their destination is the Albanian Riviera," says the general secretary of the Union of Hoteliers Corfu George Zoupas.
Albania recently commissioned a Dutch company, for 540,000 euro, for its tourism promotion for this year and expects about 3 million arrivals. In a telephone conversation, the director of the Albanian Tourism Organization, Juliana Dhame told us that revenue is expected to reach to $1.2 billion, a substantial sum for a country with a weak economy and high unemployment.
On the Beach of Saranda, tourists sunbath and buy souvenirs. Mainly prefer mugs with the flag of Albania and small effigies, used as ashtrays and sold for 3 euros. Apart from the Scandinavians, there are many Polish tourists (800,000 will visit this year throughout Albania), while about one million Kosovars expected in August.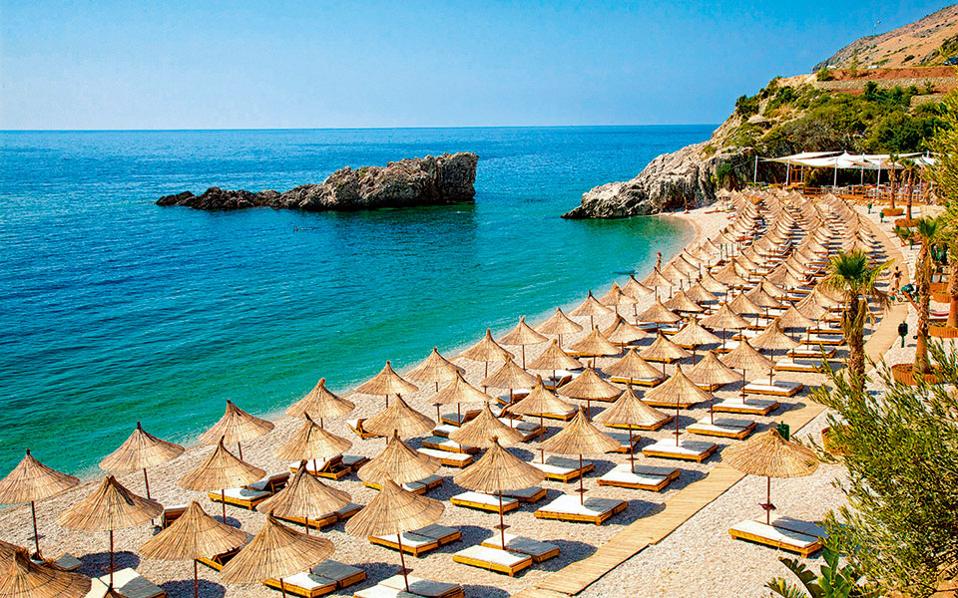 Photo credits: Ekathimerini
Prices are low in focus. In a good restaurant, we paid 15 euro for a chef's salad, pasta, grilled chicken, two beers and two sodas. The waiters-salary is about 200 euro- they speak basic English and some Italian. Traditional Albanian cuisine is not offered (excluding local mussels). Until dawn, all you can hear is Greek hits. You can feel a sense of security there, although you may rarely encounter police officials. The cost of accommodation is not particularly low. The price of a double room in 4-star hotel is around 50 euros including breakfast.
We pass the indented coastline untouched by development. We see a few beach bars and rudimentary camping. We encounter a group of ten cyclists. They are British and are doing a tour in Albania. "I visit the country for the first time," says Bob Street, 48, a mechanical engineer from Bristol. "I like the absolute quietness on the roads and the food offered in local restaurants. The locals do not speak English, but are willing to help you." He has visited Greece and Italy previously. Apart from lower costs, he notes that there are deficiencies in the Albanian tourism infrastructure. He paid for himself Euro1,250 for a seven days trip, including air tickets and stay in good hotels.
The region of Himara, a city with many Greek residents receives each year about 40,000 tourists, mainly Albanians and Kosovars. The Mayor Jorgo Goro has undertaken many initiatives jointly with the mayors of Corfu and Ioannina to attract Japanese, Israeli and Scandinavian tourists. On the beach we meet the Norwegian Ouvangk Andrea and Veronica Gkoulmprantsen with backpacks on the back. "We search for unknown destinations," they say, because "you know? In a few years Albania can become like Spain! ".
The signs of a sharp growth was apparent throughout the course of our trek. Our conclusion? To become truly competitive, Albanian Riviera must first overcome the "childhood diseases" of non-tourist project "explosion" – such as urban sprawl along the coastline. It must be given its own particular color, its culinary culture – an identity that will make it stand out."