TIRANA, October 5
The Bank of Albania (BoA) raised its key interest rate to 2.25% on Wednesday. The decision aims to cool off inflation that came in at 7.5 percent and 8.0 percent respectively in July and August, confirmed BoA's governor Gent Sejko during a press announcement.
"Recent information suggests that increased supply and uncertainty shocks in global markets are passed on in higher inflation and a slowdown of GDP growth," Sejko highlighted.
Further on, he added that BoA's Supervisory Council judged that the fast pace of prices hike remains the main risk to Albania's financial and monetary stability and its steady and long-term growth.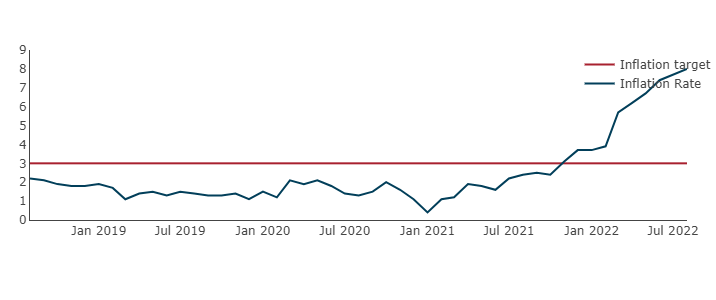 Moreover, the governor added that according to the Bank's expectations, inflation is expected to get back to target during the first half of 2024. In the short term, Sejko stressed that inflation would remain high for the upcoming two quarters and only start to decline in the following period.
On the other hand, he added that in the medium term GDP growth is forecast to increase, but at a slower pace.
Source: BoA