TIRANA, June 18
Himara as an administrative division extends along the Albanian Riviera on the Ionian coast and up to the Laberia highlands in Hore-Vranisht area. Himara is a resource-rich area, with tourism being the fastest-growing sector, but also agriculture and services hold growth potential. Fish farming, livestock rearing, and olives are among the main products of the area.
Himara is divided into two main regions, the coastal area, and Hore-Vranisht mountainous area.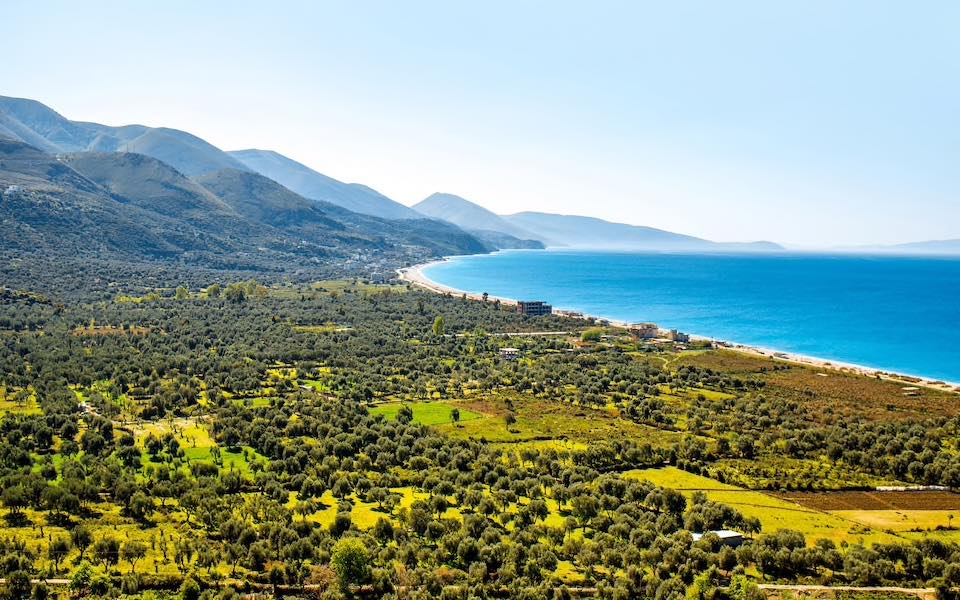 The administrative units of Himara division are Himara, Lukova, and Hore-Vranisht. It includes
one city and 24 villages: Pilur, Kudhes, Qeparo Village (Old Qeparo), Lower Qeparo, Vuno, Ilias, Dhermi, Gjileka, Palasa, Lukova, Borshi, Fterra, Corraj, Piqeras, Sasaj, Qazim Pali, Shenvasil, Nivica, Vranisht, Kuc, Kuc Buronje, Bolena, Kallarat, and Terbac.
Whether you visit Himara for beach tourism or for exceptional outdoor activities, you'll have to stop in one of the above mentioned villages and the main question will be: "What are we going to eat?"
Stop counting calories! The culinary experience is totally worth it.
Given the fact that Himara is a mountainous area, local cuisine is based on livestock products and vegetables. There is also a wide selection of dairy products and seafood. It's a fact that fish and shellfish have not been the main products in the local cuisine.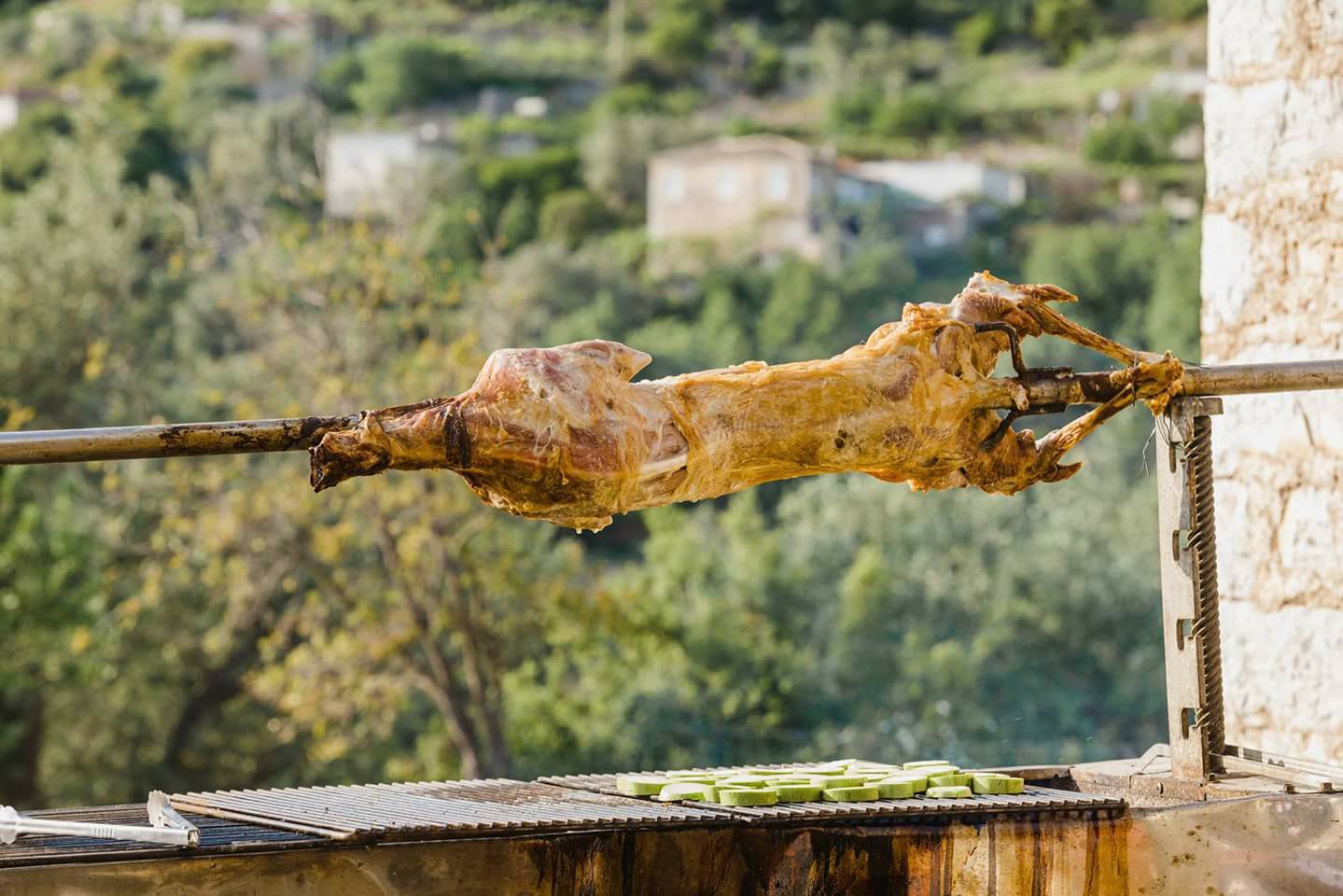 Rotisserie lamb (qengj ne hell) is a traditional delicacy almost everywhere in Albania. A whole lamb is roasted on a spit over a fire pit.  It feels sad to look at, but that's authentic cuisine.
Roasted intestines (kukurec) are another great favorite spit delicacy. Speaking of intestines, the most typical dish is Ksirogjak made of intestines stuffed with rice and liver. Ember-roasted lamb wrapped in tripe is a unique dish for the area.
Another specialty food is Pervelak, a mixture of bread (some villages use cornmeal) with white cheese and melted butter.
There is special baking soda bread (kulac) named Faqefurash. The soda bread is also prepared with wine and honey.
Wild edible plants (lakra te egra) are common food. They are picked in the wild, but not in pastures.
The most popular fruits are figs that are also used to make figs on a rope (armathe) and bukefiqe. Quins, citrus fruits, prickly pears, and grapes are popular fruits.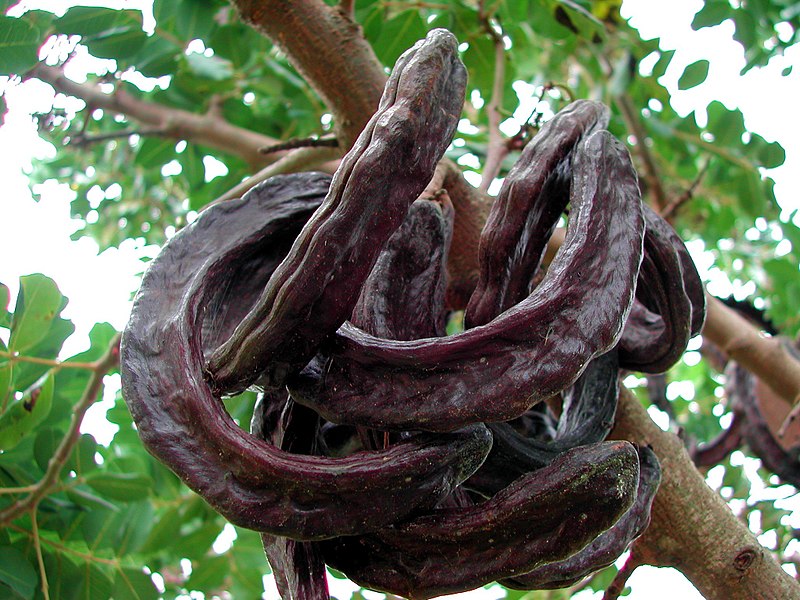 A rare fruit that grows in the area is carob or cicibune. The fruit season spans from late August to September. You can ask for carob fruit in Lukova or further south in Delvina and Saranda. There are a few trees at the main park of Saranda opposite the synagogue ruins.
Spirits and beverages
Raki (grappa), wine, and coffee liquor
Fish and seafood recipes
Fish soup
Fish with walnuts and garlic
Fried fish
Grilled fish
Fish casserole with onion, garlic, and lemon
Mussels (fresh mussels in Albania are in season from March to June).  Out of season, ask for mussels only if they are from mussels farm like in Butrinti Lake.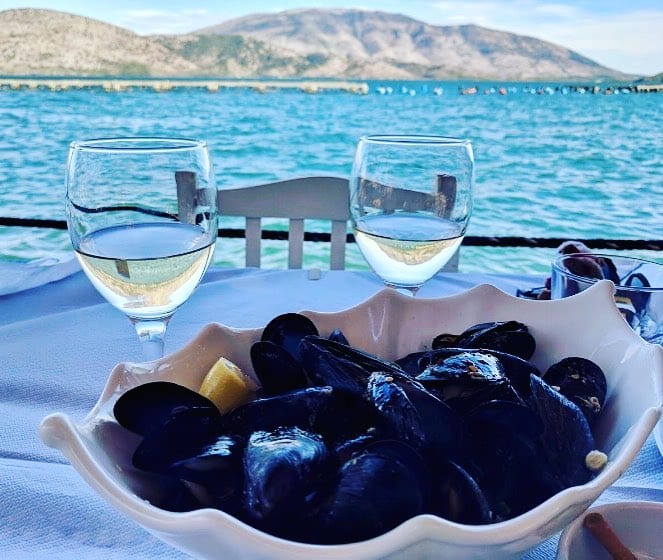 Mixed dishes
Tripe with eggs
Lakror or mesnik, not to be confused with the pie made in Korca and southeastern Albania. Despite the name, the main ingredient for the Riviera pie is meat or chicken.
Tripe casserole
Garlic and yogurt meatballs or Brobulla (no meat). You're lucky if someone still makes brobulla.
Javurllaqe meatballs
Kordhesa
Okra (bamje)Bean pie (petanik me fasule)
Milk pie (qumeshtor)
Pigweed pie
Tomato and peppers pie
Spinach pie
Wild edibles greens pie
Roasted/grilled chicken
Pigweed and purslane (nena dhe burdullak). Who knew that pigs eat such healthy food? Pigweed and burdullak are boiled and later fried with garlic in olive oil. Add lemon and white cheese and you'll have one of the most delicious summer dishes. Just ask for nena. Every restaurant has it on the menu.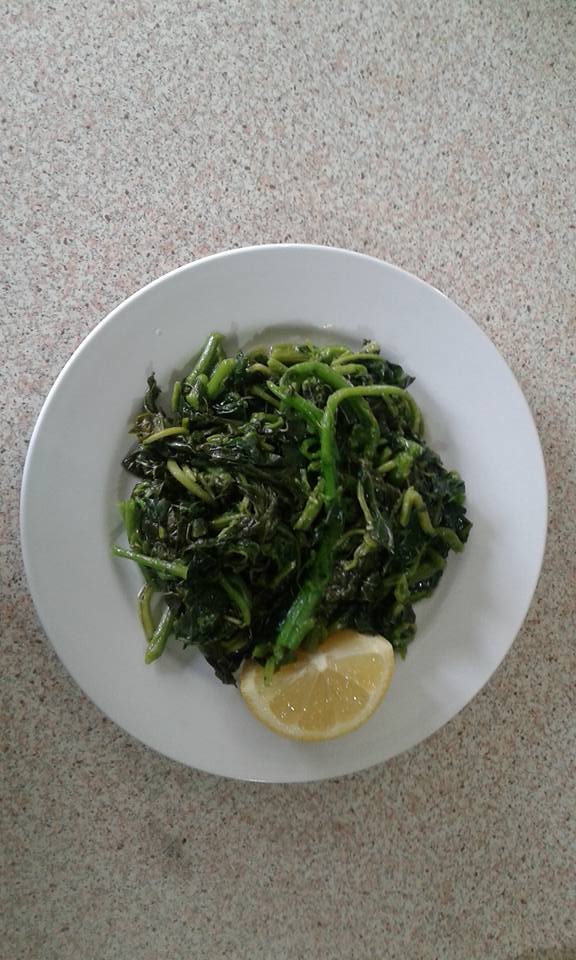 The Albanian Riviera is also famous for its numerous types of spoon sweets. Like Permeti, people in the coastal area experimented with every type of fruit when it comes to spoon-sweets. The most special are walnuts, rose, plum, and wild oranges.
The inhabitants of Old Qeparo village make cinnamon cookies.
Breakfast and fast food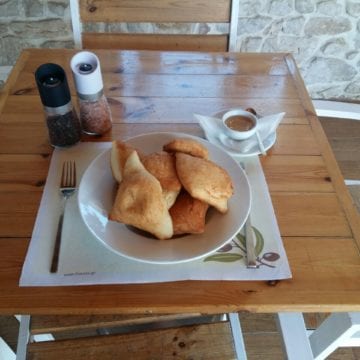 For a breakfast on the go take a typical spinach pie or cottage cheese pie. One will cost lek 100 and it goes with buttermilk (Dhalla), Lek 70 or a total of €1.4.
Chicken or pork souvlaki don't cost more than €1.5.
Beer prices up to €2
Kila, a type of petulla (pancakes) Lek 50 per piece.
Food prices in Himara are cheaper compared to Saranda.
Take with you:
Olive oil
Raki
Honey
Aromatic and medicinal plants
Spoon sweets
Figs on rope
Distance from Himara to coastal villages and cities
Tirana 275 km
Vlora 73 km
Llogara 36 km
Palasa 20 km
Dhermi 17 km
Vuno 8 km
Ilias 12 km
Porto Palermo 7 km
Qeparo 13 km
Piqeras 25 km
Kudhes 19 km
Corraj 25 km
Borsh 17 km
Lukova 32 km
Shen Vasil 39 km
Nivica 41 km
Sarande 54 km
Ksamil 66 km
Kakavia 94 km
Read also: Best Cities to Live in Albania for Expats & Nomads
Source: Himara Municipality
Photo credit: Esperia Restaurant Himara