Tirana, November 26, 2015
During an official meeting in Italy, the Albanian Assembly Speaker Ilir Meta held a meeting with the head of the Italian Chamber of Deputies Laura Boldrini and discussed about the economic collaboration between the two countries. The meeting was focused on increasing the trade exchanges between Albania and Italy and Italian investments in Albania.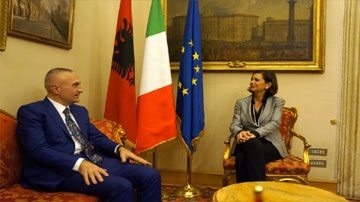 The Assembly Speaker Ilir Meta declared that Italy should accelerate the procedures for cutting the transportation tax for Albanian businesses, since a truck which transports goods to Italy has to pay two taxes when passing the border. When entering the Italian territory, Albanian businesses have to pay the weight tax and the circulation tax for every truck and both taxes are estimated at an amount of EUR 200-300.
Italy remains Albania's main trade partner in terms of exports and imports and the transportation tax has been claimed many times by Albanian businesses as a damaging policy for their trade operations.
News source/photo credits: Scan TV