Let's connect  
On Thursday, October 15, the Albanian Minister of Economic Development, Arben Ahmetaj, welcomed in an official visit the United Arab Emirates Minister of Energy Suhail Mohammed Faraj Al Mazrouei and his delegation.
The Minister Ahmetaj praised the excellent relations between Albania and the United Arab Emirates in the political aspect while "in the economic aspect the trade exchange rate between the two countries is under the potential." Ahmetaj declared the two high ranked officials held discussions about the possibility to attract investments from United Arab Emirates in the infrastructure and logistic fields.
He added that "the potential of investments in the tourism field has been strengthened and intensified by the new law for tourism. The Ministry of Economic Development and Tourism has scanned a part of public land in the Albanian Riviera which based on the legal framework, can be procured with an international auction at EUR 1 for 99 years."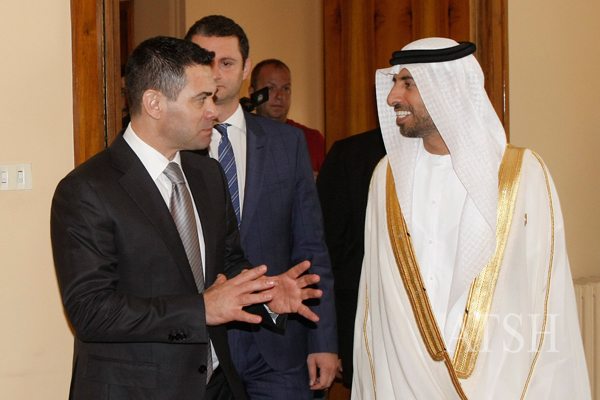 On the other hand, the United Arab Emirates Minister of Energy declared that the political relations between the two countries are excellent but Albania and United Arab Emirates should intensify their economic relations, trade exchanges and investments. Albania has a strategic location which corresponds with the government's efforts in transforming Albania into an attractive country for foreign investors.
The schedule of the delegation from United Arab Emirates to Albania includes an economic forum between the two countries which will be held within October 15. In relation to this, the Minister of Energy Suhail Mohammed Faraj Al Mazrouei delcared that the delegation will be presented to many projects in the agriculture, industry and tourism field among others, and they will find concrete projects to invest in. "We will sign an encouraging agreement with the Albanian government in order to ensure the terms and conditions for investments in the future," declared the Minister.
Albania exports an amount of 69% of mining, fuel and electric energy towards the United Arab Emirates and imports mostly construction, chemical and plastic materials.
News source/photo credits: ATA