TIRANA, March 26
From 2001 to 2017, Albania lost 35.9kha of tree cover, equivalent to a 5.5% decrease since 2000. According to the Global Forest Watch, a system by World Resources Institute, as of 2010, about 17 percent of Albania was tree cover. This means that the country had only 477kha of forests while 2.40Mha are non-forest areas.
In Albania, the top 4 regions, Vlora, Korca, Dibra, and Shkodra were responsible for 63percent of all tree cover loss between 2001 and 2017. Vlora had the most relative tree cover loss at 8.7percent compared to an average of 5.1percent.
In the meantime, Shkodra had the most relative tree cover at 23percent compared to an average of 16percent.
In Albania, the land-use change and forestry sector is a net source of CO₂, emitting an average of 162mtCO₂e/yr from 1990 to 2014. This represents 1.9% of Albania's total greenhouse gas emissions over the same period.
Between 2001 and 2017, a total of 10.2Mt of CO₂ (601kt per year) was released into the atmosphere as a result of tree cover loss in Albania.
FAO Forest cover for Albania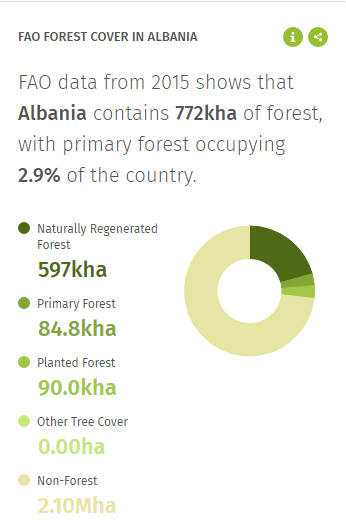 FAO data from 2015 shows that Albania contains 772kha of forests, with primary forest occupying 2.9% of the country.
Land Cover for Albania
The land use of Albania in 2015 is mostly Agriculture, covering an area of 1.90Mha.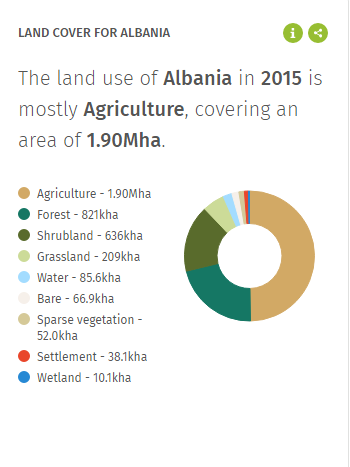 Source/Photo Credit: globalforestwatch.org