TIRANA, October 17
Albania is the top performing country in the world in terms of ease of hiring foreign labors, the Global Competitiveness Report says. Albania jumped four places in the list of the global list of competitive nations based on the latest report issued by the World Economic Forum, Albania ranks 76th in a list of 140 world economies. This year the report was drafted based on a new methodology. It is based in the performance of 12 pillars that include: Institutions, Infrastructure, ICT Adoption, Macroeconomic Stability, Health, Skills, Product Market, Labor Market, Financial System, Market Size, Business dynamism, Innovation capability and a total of 98 components. This report is the most reliable country overview that foreign investors take into consideration.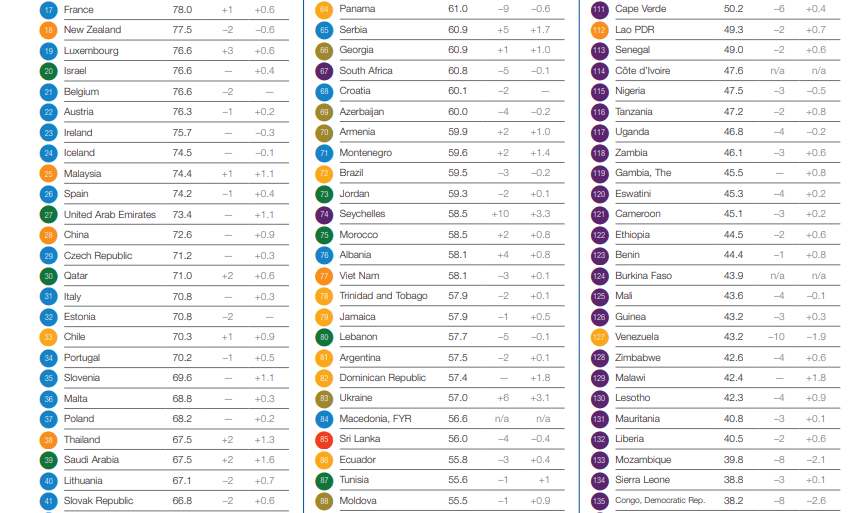 The report highlights that the most concerning components in Albania remain the organized crime, judicial independence, property rights, the efficiency of train services, market capitalization, non-performing loans, the quality of research institutions, etc.
In the meantime, compared to the other countries of the region, Albania has a better ranking than Macedonia 84th and Bosnia and Herzegovina 91st. Meanwhile, Serbia ranks 65th and Montenegro ranks 71st.
Albania had the highest scores for the labor market component as it ranks 34th in the world, while the component with the lowest score was the market size. However, Albania is the first country in the world in terms of ease of hiring foreign labors.
"The importance and policy relevance of growth has been re-affirmed through the United Nations' Sustainable Development Goals (SDGs). Goal 8 calls for "sustained, inclusive and sustainable economic growth" and sets an ambitious target of 7% growth for least-developed
Countries," the report says.
News Source/Photo Credit: weforum.org