TIRANA, December 17
Albania's export values have marked a positive performance during January – November 2018. The most important Albanian exports for the 11 months of the year are oil, minerals, metals and spare parts while the apparel and footwear sector slowed due to Euro depreciation.
Based on the data provided by the Institute of Statistics (INSTAT), over Lek 289 billion were sold abroad during January-November. Year-over-year comparison confirms a 15 percent hike.
Despite the Euro depreciation, the manufacturing and footwear is the main export group. The sector generated Lek 115 billion income over Jan-Nov 2018. The sector marked a 6.3percent increase in revenue. Representatives from the industry say that the demand remains high by Italian partners. However, the impact of the Euro caused an automatic decline in revenue.
The sector accounts for 40 percent of total exports during Jan-Nov.
Minerals, fuels, and energy account for with 18 percent of total exports. The sector showed a positive performance compared to 2017 as it increased by 33 percent. The sector expanded due to the growth of Bankers Petroleum's activity. Moreover, the revival of the mining activity as a result of recent investments and the sale of energy in the first half of the year helped the sector growth.
Another group of export goods with a positive performance includes machinery, equipment, and spare parts. The sector generated Lek 17 billion in revenue and reflected an increase by 20 percent. The increased activity of manufacturing companies that produce electric cables for vehicles for the German market impacted the performance of the sector.
The top export markets of Albania during Jan – Sept 2018 are Italy, Kosovo, and Spain.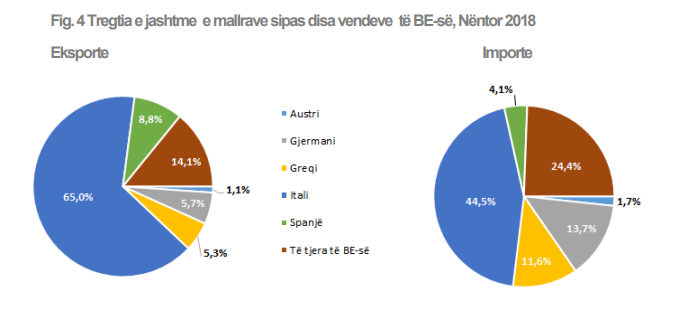 News Source/Photo Credit: INSTAT