TIRANA, November 18
Exports during October fell 10.3 percent from a year earlier, data from the Albanian Institute of Statistics (INSTAT) showed on Monday. Shipments to Italy, one of Albania's biggest trading partners also dropped 2.6 percent.
Exports in October were estimated Lek 27 billion while the value of imported goods was Lek 59 billion. Therefore, October's trade deficit was up 14.3 percent compared to Oct 2018.
January – October exports
Exports during Jan – Oct 2019 were estimated Lek 252 billion or 3.6 percent less from the same period in 2018.
Meanwhile, imports were estimated at Lek 540 billion or 9.4 percent more compared to 2018. The trade deficit for the afore-mentioned period was Lek 288 or 9.4 percent more than in 2018.
Over 63 percent of goods were exported to the European Union market.  Still, Italy, Turkey, Greece, and China were the main trade partners in October.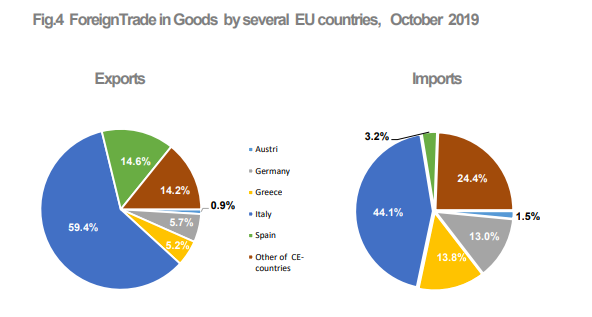 The three main categories of goods produced in Albania, textile and footwear, minerals, fuels, and electricity, and machinery, equipment, and spare parts had a negative contribution to exports in October. On the other hand, the categories of goods that had a positive impact were chemicals and plastics, and leather and leather manufacturing.
Trade by partner countries
The year-over-year comparison shows that in October Albania had the highest growth in exports with Spain, Germany, and North Macedonia.
Meanwhile, the country saw a decline in exports with Italy, Kosovo, and Greece.
However, the report confirms that during Jan – Oct 2019 Albania saw an increase in exports with Kosovo, Germany, and China.
Moreover, exports declined to the following countries: Italy, Spain, and Greece.
Source: INSTAT