TIRANA, October 18
The top exported product from Albania during 2018 are shoes and oil, the Western Balkans Regular Economic Report confirms. In the meantime Macedonia exported chemical products and machinery spare parts, Bosnia and Herzegovina exported furniture and shoes, Montenegro exported aluminum products and electricity, while Serbia exported tobacco. Footwear companies in Albania and Bosnia and Herzegovina compete in the EU Market while most of the major export products from the Western Balkans do not necessarily compete in the EU market shares. In general, the exports from Albania are dominated by services, especially tourism while goods exports are dominated by manufactured commodities.
The tourism sector in Albania offers opportunities for local sourcing of necessary services or goods, such as food, reinforcing trade links between Western Balkan countries. Meanwhile, the other countries of the region specialize in exporting machinery and auto parts to the EU market. This had an impact on the labor market and higher wages while Albania is still focused on cheap working force and low wages.
An important finding of the report highlights that: "The Western Balkan countries are not necessarily competing directly with each other for the same EU markets or for FDI from the same EU firms.
According to the report, economic growth in Albania during 2018 is expected to be 4 percent while the net FDI, mainly for hydropower projects, reached 9 percent of GDP in 2017.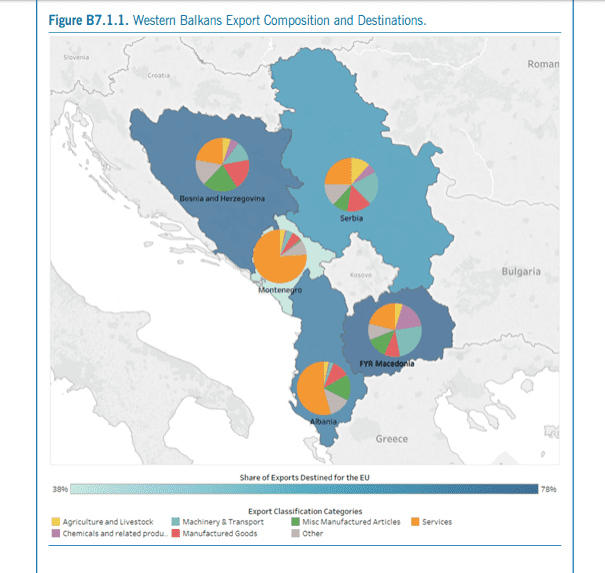 "But, while some Western Balkan countries make extensive use of tax holidays to attract FDI, these are typically not among the top five considerations of foreign investors in the region—only one in five investors considers that the absence of investment incentives as critically important. There is, however, evidence that countries can maximize the benefits of FDI only if they have well-developed financial markets. And investors strongly value the quality of local suppliers. The availability of human capital is central to repatriating the benefits of FDI. Improving the business environment and investing in human capital are thus a priority for attracting and maximizing the benefits from FDI in the Western Balkans," the report highlighted.
News Source/Photo Credit: The WB