Tirana, November 27, 2015
The Republic of Albania and India have signed an agreement based on which Albanian and Indian persons that posses a  diplomatic or service passport will not have to get a visa in order to enter the territory of Albania or India. The agreement was signed between the Republic of Albania's Council of Ministers and the Republic of India's government, according to a Ministry of Foreign Affairs' press declaration.
According to the press release, the reached agreement will provide facilities for both countries' diplomatic bodies in maintaining and improving the political relations and enhance cooperation in fields of mutual interest. The "Agreement for the abolishment of visas for diplomatic and service passports" will also provide facilities for businesses and will create new communication and cooperation opportunities.
Albania and India have had good relations although the economic cooperation between the two countries is under the potential.  The agreement was signed by the Deputy Minister of Foreign Affairs Halim Hyseni and the Indian Ambassador to Albania Riva Ganguly Das.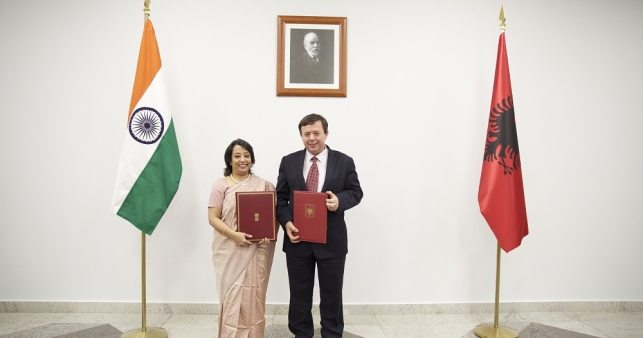 News source/photo credits: Ministry of Foreign Affairs