Tirana, Albania
9 May 2016
---
Idyllic beaches, warm weather, rich history, spectacular mountain scenery and bargain prices; it sounds like an impossible wish list for a European destination. Yet Albania fulfills all of these criteria and more besides. Over the past quarter of a century, this Balkan land has gradually emerged from its austere communist cocoon and savvy travelers have been taking note.
The capital, Tirana, is a curious and cosmopolitan place. Its countless communist-era apartment blocks have been enlivened with licks of brash, bright paint, and in parts of the city these sit shoulder-to-shoulder with Ottoman and Italian architecture. It is haphazard and disorderly, but wildly alive, with the constant whir of traffic and cacophony of voices adding to the buzz.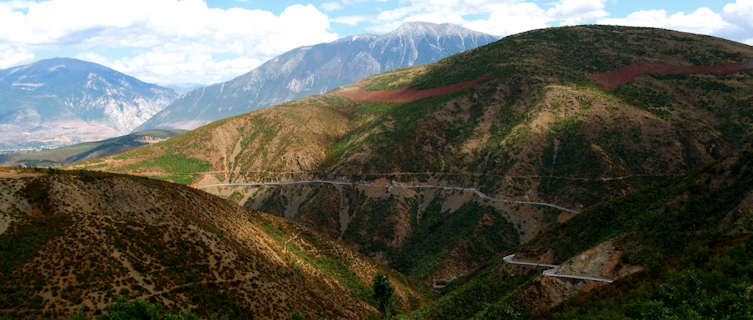 Mountains near Kukes area
Leading down to the Greek border is Albania's greatest asset: the Adriatic coastline (touted as the "Albanian Riviera"). It would be disingenuous to call it undiscovered; the beaches here draw significant sunbathing crowds during July and August. Even so, these heavenly stretches are fresh to foreign tourists, and among the best in the Med. If you can tear yourself off the towel, there are also interesting remnants of Greek, Ottoman and communist history to be explored in nearby towns. Of particular note are the now deteriorated and occasionally re purposed domed bunkers, paranoid follies ordered by the isolationist ex-ruler Enver Hoxha.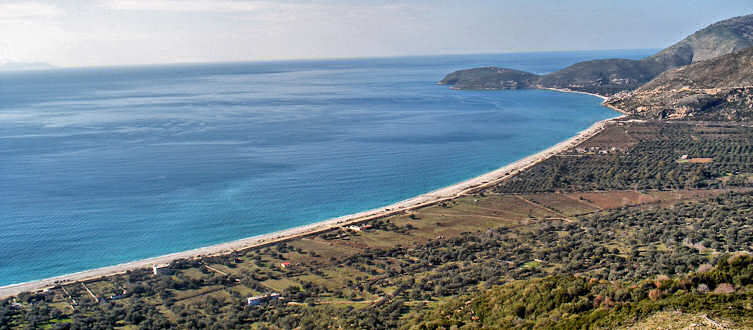 Borsh, southern Albania
Further inland, stony hiking trails weave among the lunar, sun-bleached mountains, where remote rural villages offer up a warm welcome to any inquisitive visitors. With unpaved, pot hole-strewn roads and unreliable bus routes, just getting to the country's interior can be an adventure in itself. But when the logistics of travel prove taxing, there's always the dangling carrot of lovingly-prepared meals, tasty wine and ever-hospitable locals to spur you onward.
With its winning combination of sandy beaches, engaging history and affordable prices, Albania's once-unsung charms are now being shouted from the garishly-colored rooftops.