TIRANA, May 23
Some 34 out of 92 water bathing sites in Albania were considered to have an excellent quality. This was confirmed by the report issued by the European Bathing Agency on Tuesday regarding the European bathing water quality during 2016. The report provides detailed information on the quality of bathing water in 28 European Union member countries, in Albania, and Switzerland.
Based on the report, most of Albanian bathing sites with an excellent quality are found in southern Albania respectively in: Ksamil, Saranda with the exception of the seaport area, Borsh, Qeparo, Himara, Dhermi, Orikum, Radhima, Uji I Ftohte area in Vlora, two beaches in Golem, Lalzit Bay, Shengjin, and Velipoja.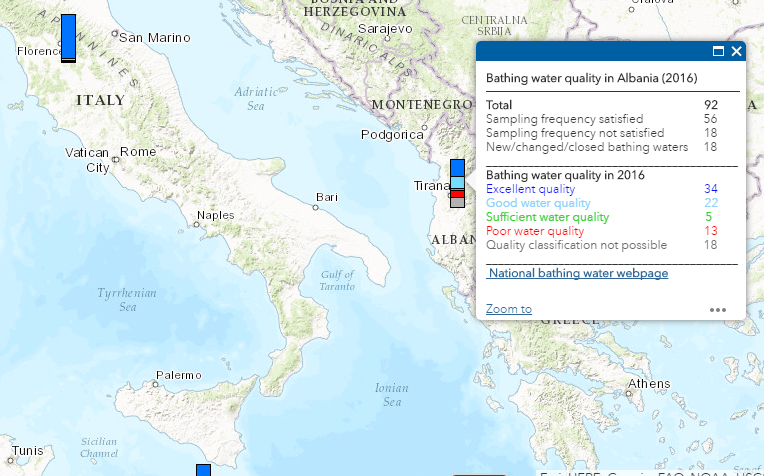 Moreover, there are 22 bathing sites with good water quality, five sites with sufficient quality and 13 sites with poor quality. In the meantime, there is no information for 18sites mostly located in Fier, Karavasta Lagoon, and Ceka Lagoon in Lezha.
The beaches with poor bathing water quality are in the delta of Bistrica River and the seaport area in Saranda, Vlora, Shkembi i Kavajes, and the beach at Taulantia Promenade in Durres.
"In Albania, assessed under provisions of the revised Bathing Water Directive for the second time, 13 bathing water sites (or 14.1 %) were classified as poor. This is a major improvement in comparison with 2015 season when 31 bathing water sites (or 39.1 %) were quality assessed as 'poor'. This improvement can be associated with the five wastewater treatment plants constructed in recent years, which provide wastewater treatment for almost half a million residents and contribute to better bathing water quality," the report says.
Further on, it highlights that the countries with the highest number of bathing water sites where the water quality improved from poor to at least sufficient were France (24 sites), Albania (16 sites) and the United Kingdom (13 sites).
News Source/Photo Credit: EEA