TIRANA, May 30
Tourists and visitors traveling from the UNESCO World Heritage Site of Gjirokastra to the coastal city of Saranda or vice-versa have the chance to stop at Blue Eye Spring. This is one of the most popular tourist attraction in southern Albania. Located near Muzine Village in Delvina area, the Blue Eye Spring was visited by 30,000 people during 2016. Chair of the National Agency for Protected Areas, Zamir Dedej said that Lek three million were generated from the visits to the park.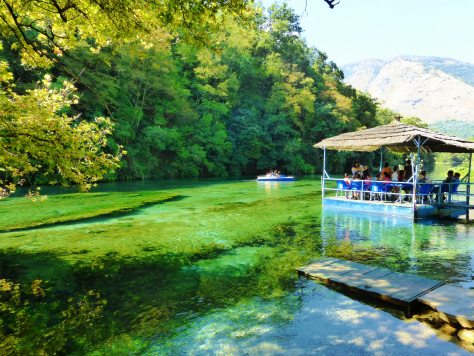 These data confirm an increased interest of tourists in natural attractions and destinations in Albania.
Sources from the National Agency for Protected Areas confirmed for Scan TV that the Blue Eye area will soon turn into a year-round destination. Meanwhile, a center for visitors will be constructed soon.
The Blue Eye Spring faces Krongj village and it is located 45 below the Valley of Drino River. The colour is deep blue at the center of the spring and light blues in the sides. Local people say that the origin of the Blue Eye Spring is found in an old legend. Various expeditions have explored the underwater cave, while scuba divers that reach the depth of 20 meters can sign their names in an underwater notebook. The area around is a green paradise. Water seems to flow everywhere and the park is at the same time blissfully serene and buzzing.
News Source: Scan TV