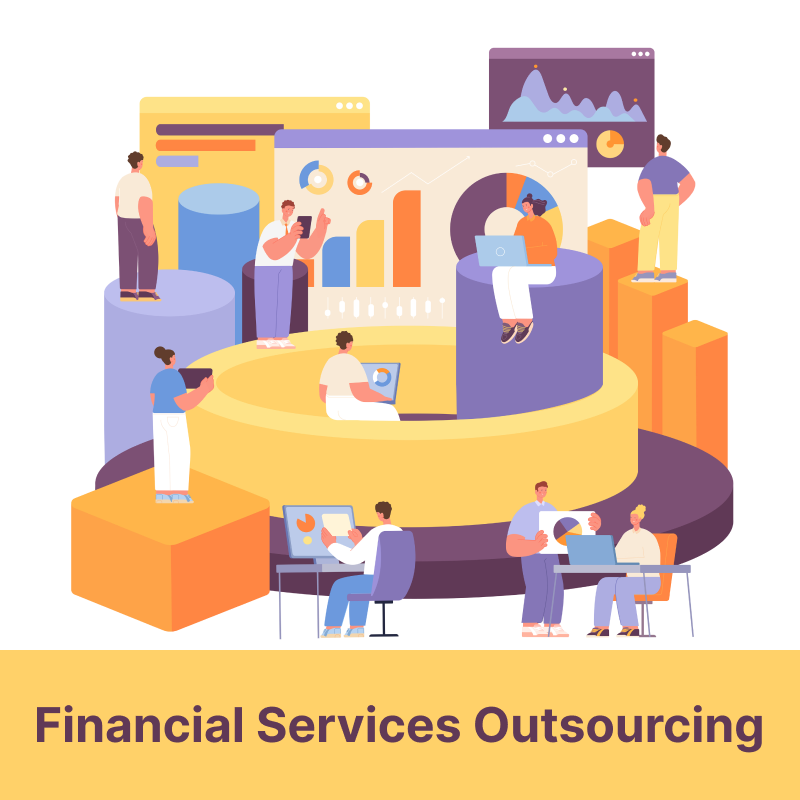 What are the financial services?
Financial services are the services offered by the finance industries. These industries include a wide range of organizations that deal with money management. Such organizations are: central banks, credit-card companies, insurance companies, savings and loan associations, brokerage firms, investment companies, mortgage companies, credit unions and some organizations sponsored by the government.
Businesses and organizations throughout the world are increasingly using third parties to carry out financial activities that the businesses themselves would normally have undertaken.
Benefits of outsourcing financial services:
No extra money
There are no benefits to pay. When outsourcing finance functions, such as bookkeeping and payroll, you pay for the outcome based upon the work being done. You don't have to pay for sick days, holiday pay, medical insurance, or retirement benefits. Simply reducing these types of benefit payments can contribute to an immediate bottom-line impact.
You call the shots
You only pay for what you need. When structuring your agreement with the outsourcing vendor, you define the types of services you will need. Whether these services require 20 hours per week or 50 hours per week, your payment terms will be based upon your specific and unique needs.
Reducing costs
You reduce overhead costs. When you use an outsourcing firm, the vendor is now responsible for turning on telephones, paying the energy bills, setting up the cubicle space, purchasing office equipment, and paying rent. While it's true that these costs are passed on to the client, they are also shared amongst all the vendor's clients so your portion remains much lower than it would by providing those items in your own place.
They are experts at what they do
You have access to the experts you need. A finance company providing outsourcing specializes in one thing: finance! Whether you're facing an accounting issue or have specialized bookkeeping requirements, you can find whatever expertise you need to help meet your specific requirements.
They are always up-to-date
Best practices are put to work for you. A financial company must stay up to date on the latest financial trends, business practices, and governmental requirements. Vendors understand exactly what types of practices work best in order to better serve their clients.
They have the latest technology
The best technology and software is available to you. A finance company invests in the best technology and software available in order to be the most competitive in the marketplace. This type of investment makes sense for the finance company because finance is the core business. For companies where finance is not the primary function, making this type of infrastructure investment simply doesn't make sense.
They are always available
Their entire team is at your service. By using a vendor company, you don't just have one or two employees – you have a team working to meet your needs. If someone goes on holiday, your personalized service doesn't have to stop for the week until she returns. Instead, you will have people available to you when you need them.
They can hire new staff for you
You have scalability. Suppose you've got some temporary projects coming up that will require a short-term increase in staff. You simply let your vendor know your requirements ahead of time and the vendor can make sure you have the number of people you need to meet this temporary demand. In addition, as your company grows, there's no need for you to have to take the time and effort to go through the hiring process. You let your outsourced vendor know that your needs have changed and let them quickly and easily adjust to fit your new workload.
Flexibility
You have flexible availability. Not all business is conducted from 8 am to 5 pm. Sometimes your business requires someone available on a second or third shift. Instead of worrying about hiring extra staff and worrying about hiring extra supervisors to manage the staff, your outsourced vendor will make sure you have staff at the hours that you need them.
You can focus on your core business
Last, but not least with an outsourcing financial services company, you can spend your time on your core business. Outsourcing means that you negotiate your financial requirements, figure out a plan to manage the day-to-day tasks and then step back and let your trusted vendor take care of the financial activities of your business. This means that you get to allocate your time and energy on building your business or organization.