Market overview
Economic Freedom Score
"Albania's economic freedom score is 66,9 out of 100 (most free) making its economy the 54 Freest in the 2014 Index. Its overall score has increase by 1.7 points, with notable improvements in investment freedom and trade freedom. Albania is ranked 25th among the 43 countries in the Europe region, and its overall score is above the world average.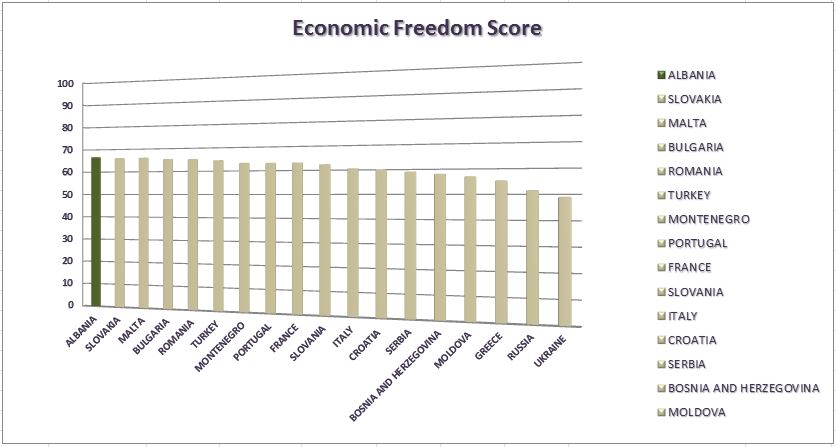 Economic Freedom Score for Albania in 2014
Photo credits: AIDA
Foreign Trade Policies
You may not know, but Albania has applied very liberal trade policies since the liberalization of country's foreign trade in 1990. Albania government has always followed the guidelines set by the European Union and World Trade Organization. Albania has been a member of WTO since 2000 and applies WTO rules on import licensing. As a result of this liberalization and an on-going process of harmonization of Albanian customs rules with the EU system, imports and exports of commodities are not generally subject to special authorization requirements. *Exceptions apply to quotas or control requirements imposed through different bilateral or multilateral agreements signed by Albania. Licenses are also required for specific commodities with restricted circulation within the country such as military or strategic goods, radioactive materials and psychotropic substances, drugs etc.
Another reason why you should invest in Albania and export your products from Albania to other countries is that exports are not subject to any export taxes, fees or other barriers. Imports as well are not subject to any import duty taxes other than customs duties. Imports are subject to VAT and some items, such as tobacco, alcoholic beverages and fuel are also subject to an excise tax.
The EU remains the main trading partner of Albania, providing 64.1 % of imports and receiving 72.5% of Albania's exports. Albanian Customs Code emphasizes that custom valuation will take place in compliance with the requirements of WTO;
Your copyright will be recognized and protected by law. Albania has committed to implement the entire TRIPS Agreement and the legislation regarding author's copyrights since it is a member of WIPO (World Intellectual Property Organization) since 1992. Albania has also signed the respective memorandum related to intellectual Property Regime.
Property market
Albania's property market is being billed as one of Europe's last undiscovered markets. In a curious way it has a huge amount of potential. Usually most people looking to invest either choose the capital Tirana or the coast. In this way, they concentrate in well known areas and dismiss opportunities they may profit from if they would invent in other cities except Tirana.
Prices in Tirana range from 500-1000 euros/sqm for new build property, and is the place where clearly there will be the strongest fundamentals to support a property market.
In most of the cases, in Albania an apartment in a newly-built residential complex will cost you approximately $40,000.
Outside the city, affordable real estate is drawing newcomers to places like the charming town of Saranda on the pristine Ionian Coast, a largely unspoiled stretch fringed by white-sand beaches where apartments start at only $50,000.
Building in Tirana, Albania
Photo credits: Quinn Dombrowski
Trade Developments
Trade volume in 2011 rose by 23.9 % compare to 2010, with imports rising by 12.4% and exports by 20 %. During 2011 total imports amounted to 544,004 million ALL (3,867.09 million Euro million euro) and exports amounted to 197,459 million ALL (1,404.16 million euro).
The EU remains the main trading partner of Albania, providing 64.1 % of imports and receiving 72.5 % of Albania's exports. In order of trade volume in 2011, Albania imports mainly from Italy, Greece, China, Germany and Turkey, and exports to Italy, Kosovo, Turkey, Greece, Spain and Germany. Italy and Greece represent respectively 47.7 % and 16.6 % of imports, and 73.3% and 7.1% of exports.
Almost 30 % of exports were realized by the group "Minerals, fuels, electricity".
32% of exports and 9% of imports were realized by the group "Textiles and Shoes".
The group "Machinery and equipments" represented 20% of imports.
The group "Construction materials and metals" represented 15% of imports and 21% of exports.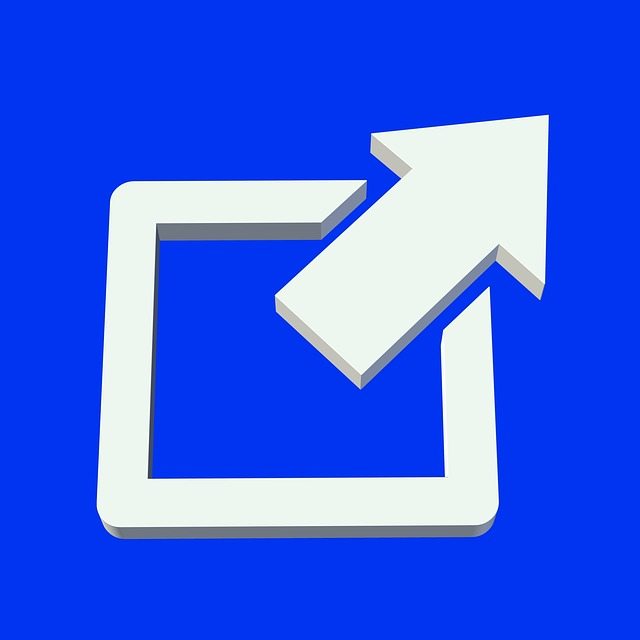 Photo credits: Pixabay / geralt
Foreign direct investments
Despite the global economic crisis, foreign direct investments (FDI) in Albania continued to increase during the period 2008-2010 reaching to EUR 788 million more than twice the level of investments in 2006. As per IMF data, when compared to other South East European countries, FDIs of Albania in 2010 represent one-quarter of FDI in the entire region. Since the privatization program is almost complete, FDI reduced to EUR 712 million in 2011. FDI have mostly been attracted by the various privatization initiatives of the Government in sectors such as banking, telecommunication, manufacturing, and increasingly energy sector, especially the hydroelectricity. Specifically, 24 percent of the FDI during the period 2004-2008 went to privatizations, eventually rising to 26 percent in 2009.

Photo credits: econintersect
Privatization 
The privatization of large-scale enterprises is advancing. According to estimates from the Ministry of Finance, during 2012 the Government expects to put up for sale the remaining public stakes in the distribution system operator OSSH, oil refiner ARMO and national fixed-line operator Albtelekom. In addition, the Government intends to fully privatize the life and non-life insurer Insig, Albpetrol, the oil and gas producer and four hydro-power plants. In the near future, the privatization strategy of the government involves the privatization of certain state-owned enterprises. In this respect, some concession projects have already been initiated, namely the development, implementation, and management of the national broadband network as well as the maintenance of major national road segments. Several sectors in Albania still offer opportunities to access long-term gains that can come from investing in a fast-growing, low cost economy with fairly untapped natural resources and a flexible workforce.